Slip & Fall Attorney in Los Angeles, California
Did a Slip and Fall Land You in the Hospital?
Get in Touch with a Slip and Fall Attorney in Los Angeles, CA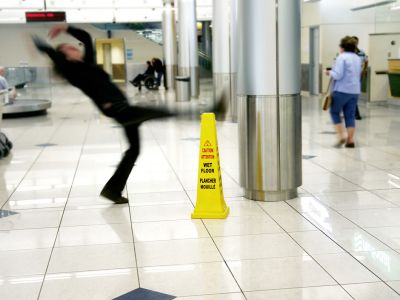 Did you trip over a defective sidewalk? Did you slip on a wet floor? You shouldn't have to pay for medical bills on your own due to someone else's negligence. The slip and fall attorney of John Goalwin Attorney at Law can help you fight for the compensation you deserve.
Property owners have a responsibility to keep their property safe. If you slipped and fell at someone else's property due to negligence, attorney John Goalwin can build a case on your behalf. He'll help you seek compensation for hospital expenses, lost wages, and pain & suffering.
Reach out to John Goalwin Attorney at Law of Los Angeles, CA now to find out how attorney Goalwin can help you.
Learn About Common Slip-And-Fall Injuries
Slipping on a wet floor or missing a step in a poorly lit stairwell can lead to a variety of injuries. Some of the most common slip-and-fall injuries include:
Broken bones

Head trauma

Fractured hips

Back problems

Neck problems
A slip and fall attorney in Los Angeles, CA can figure out if you have a valid slip and fall case. Call 213-319-2677 right away to share your case's details with attorney John Goalwin.